Frequently bought together:
Description
ACTIONS:
The compound relaxes bronchial muscles and promotes bronchial/pulmonary dilation enabling a greater flow of oxygen and optimal respiratory functioning.
POTENTIAL USES:
Especially for chronic bronchial asthma and mild asthma attacks. Continued use can moderate or eliminate chronic symptoms that occur between attacks such as wheezing and shortness of breath. The frequency, duration, and intensity of the asthma attack can be lessened.
SIZE:
OS-8 comes in 1 oz. (30ml). Using 30 drops per day this bottle will last about 1 month.
DOSAGE
Shake well before use.
Between attacks: 15 to 20 drops in water, two to four times per day. Last dose of the day may be taken just before bedtime to facilitate sleep. Best results may be achieved with several weeks of continued treatment.
Mild attacks: 15 to 20 drops in water every one to three hours as needed. Use depends upon severity of the attack and response to treatment. Do not take more than 8 doses in a 24 hour period.
CONTRAINDICATIONS AND CAUTIONS:
Do not use if you are allergic to any ingredients. Always consult a physician before use.
This treatment does not apply to asthma-like symptoms caused by heart disease. More potent medicines may be necessary for severe asthma attacks. Asthma can be a serious health problem. Seek the advice of a qualified healthcare practitioner. Turmeric should not be taken by people who are on blood-thinning medications.
Chronic Bronchial Asthma Remedy is a Tachyonized™ blend of liquid extracts:
GREEN - Alcohol-FREE Tachyonized Chronic Bronchial Asthma Remedy contains:
(organic vegetable food grade glycerin / purified water ratio: 3/2)
Elecampane root (Inula Helenium)
Horehound herb (Marrubium Vulgare)
Mullein leaf and flower (Verbascum Densiflorum)
Ginger root (Zingiber Officinale)
Licorice root leaf (Glycyrrhiza Glabra)
Pleurisy root (Asclepius Tuberosa)
PLEASE NOTE:
Tachyonized Chronic Bronchial Asthma Remedy is free of: gluten, preservatives, GMO, artificial colors, heavy metals, pesticides or fertilizers.
We use only Certified Organic and Wildcrafted herbs!
---
LEVEL II - CELL POINTS
By incorporating Ultra-Disks into any treatment we quickly balance the natural meridian flow thereby enhancing the entire treatment. Generally, you can use the 15mm Micro or Ultra-Disk for all applications. Locate the Cell Points as described below. Determine which Cell Points are the tenderest. Liberally apply Panther Juice to these points and allow to dry thoroughly. Using Cell-Dotts or surgical tape, adhere the Micro-Disks to the desired point. It is very important to cover the entire spot.
CELL POINTS TO RELIEVE ASTHMA AND BREATHING DIFFICULTIES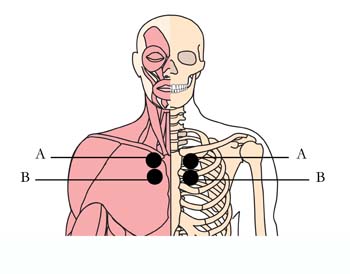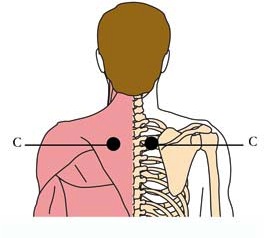 Location: Cell Point A is located in the hollow below the collarbone next to the breastbone.

Location: Cell Point B is one inch beneath Cell Point A.
Benefits: Both points relieve chest congestion, breathing difficulties, asthma, coughing and anxiety.
Location: Cell Point C is located one finger width below the upper tip of the shoulder blade, between the spine and the scapula.
Benefits: Relieves asthma, coughing, sneezing and muscle spasms in the shoulder and neck.
Application: Liberally apply Panther Juice to the area and allow to dry completely. Adhere Micro-Disks with Cell-Dotts™.
Duration: Start Cell Point application when you begin using OS-8. Continue wearing the Micro-Disks for two or three days after symptoms have cleared. Reapply at the first sign of imbalance.
LEVEL III - TLC POINTS
For Tachyon trained individuals, incorporating TLC Bars on the TLC balancing points below represents the ultimate treatment combination. TLC bars are reserved for Students of Tachyon Holistic Wellness courses or LWL courses.
TLC BALANCING POINTS FOR ASTHMA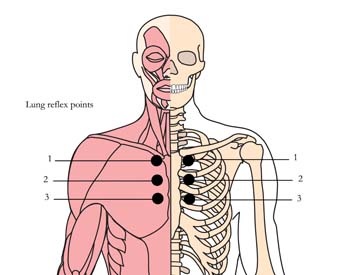 Typical Balance Session: Using your TLC Bars, charge each point for 30 seconds in. Reverse the flow for 30 seconds. Finish with 30 seconds in.
View All
Close