Frequently bought together:
Description
ACTIONS:
Medical research has proven the effectiveness of Feverfew in decreasing the frequency and/or intensity of migraine headaches when used on a daily basis. Also relieves some of the accompanying symptoms such as nausea, depression, and arthritic pain due to inflammation.
POTENTIAL USES:
Effective in the relief of occasional simple headaches, acute and chronic migraines, and cluster headaches. Headaches can have many different underlying causes. In addition to using this compound the source of the headache should be sought.
SIZE:
OS-15 comes in 1 oz. (30ml). Using 30 drops per day this bottle will last about 1 month.
DOSAGE:
Acute: For best results, begin use at first sign of headache. Initially, 15 to 20 drops in water. If headache persists or returns take 10 to 15 more drops, depending on severity, up to five times per day.
Chronic Migraines (extended therapy): 10 to 20 drops in water, two to three times per day. Full results may be obtained by extending therapy for 4 to 6 weeks.
CONTRAINDICATIONS AND CAUTIONS:
Feverfew is contraindicated during pregnancy because of stimulating action on the womb. Severe, long-lasting, or frequently recurring headaches may indicate more serious illness. Seek the advice of a qualified healthcare practitioner.
Tachyonized Headache & Migraine Remedy is a Tachyonized™ blend of liquid extracts:
40% - Feverfew leaf and flower (Tanacetum parthenium)
30% - Meadowsweet leaf and flower (Spirea ulmaria)
20% + Periwinkle flowering tips (Vinca major)
10% - Lavender flower (Lavendula angustifolia)
+ Fresh - Dried
(Contains grain alcohol (58-63%) and distilled water)
PLEASE NOTE: We use only Certified Organic and Wildcrafted herbs!
LEVEL II - CELL POINTS
By incorporating Ultra-Disks into any treatment we quickly balance the natural meridian flow thereby enhancing the entire treatment. Generally, you can use the 15mm Micro or Ultra-Disk for all applications. Locate the Cell Points as described below. Determine which Cell Points are the tenderest. Liberally apply Panther Juice to these points and allow to dry thoroughly. Using Cell-Dotts or surgical tape, adhere the Micro-Disks to the desired point. It is very important to cover the entire spot.
CELL POINTS TO RELIEVE HEADACHES AND MIGRAINES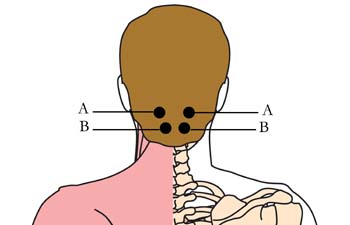 Location: Cell Point A is located below the base of the skull, in the hollows on both sides of the spine.
Benefits: Relieves headaches including migraines, dizziness, stiff neck, neck pain, neuromotor coordination problems, eyestrain and irritability.
Location: Cell Point B is located one half-inch below the base of the skull, on each side of the spine.
Benefits: Relieves stress, burnout, exhaustion, heaviness in the head and stiff neck.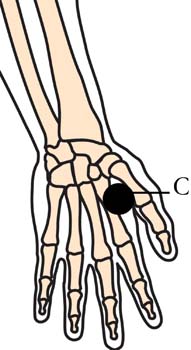 Location: Cell Point C is located on the back of the hand, in the webbing between the thumb and index finger.
Benefits: Relieves frontal headaches, indigestion and shoulder pain.
Caution: This point is forbidden for pregnant women as the stimulation may cause premature contractions.
Application: Liberally apply Panther Juice to the area and allow to dry completely. Adhere Micro-Disks with Cell-Dotts™.
Duration: Start Cell Point application when you begin using OS-15. Continue wearing the Micro-Disks for two to three hours after symptoms have cleared. Reapply at the first sign of imbalance.
LEVEL III - TLC POINTS
For Tachyon trained individuals, incorporating TLC Bars on the TLC balancing points below represents the ultimate treatment combination. TLC bars are reserved for Students of Tachyon Holistic Wellness courses or LWL courses.
TLC BALANCING POINTS FOR HEADACHES AND MIGRAINES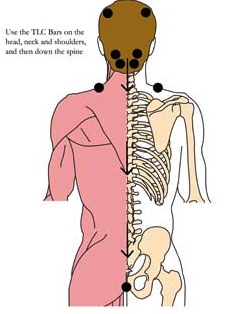 Typical Balance Session: Using your TLC Bars, charge each point for 30 seconds energy in. Reverse the flow for 30 seconds energy out. Finish with 30 seconds energy in.
View All
Close