Frequently bought together:
Description
Without a doubt, living in a 5G world will slowly weaken immune systems. Therefore, along with all the other uses, Tachyonized Immune system tonic is now also considered an essential part of preventative 5G health practices.
ACTIONS:
Echinacea is an adaptogenic stimulant to the immune system, affecting a variety of viral and bacterial conditions. It is used as the first line of defense in resisting disease by strengthening and potentiating the immune system. The herbs in this compound include properties that are cortisone-like, produce anti-tumor activity, and increase production and activity of various components of the immune system.
POTENTIAL USES:
Suggested in any instance of a weak or compromised immune system. Considered essential for those living in the sea of 5G. Especially helpful for those individuals with low resistance to viral and bacterial infections and those slow to heal. Specifically indicated as an immune supportive therapy in treatment of allergies, infections that are fungal, viral or bacterial in nature, and chronic disease such as cancer and AIDS. For those affected by 5G, it is indicated as a daily supplement to enhance overall immune responses.
SIZE:
OS-20 comes in 1 oz. (30ml). Using 30 drops per day this bottle will last about 1 month.
DOSAGE:
Shake well before use.
Acute: 15 to 20 drops in water, two to five times per day until the imbalance has cleared.
Chronic: 10 to 20 drops in water, two to three times per day. Continue treatment six days per week for six weeks. Stop the drops for one week and then repeat the cycle. Depending upon the condition, use of this compound may be necessary for one to six months.
Daily - 5G: 10-20 drops in water two times per day.
CONTRAINDICATIONS AND CAUTIONS:
Do not substitute this compound for qualified healthcare. AIDS, cancer, or any condition involving high or persistent fever or pain needs appropriate healthcare and supervision.
Immune System Tonic is a Tachyonized™ blend of liquid extracts:

PURPLE - ALCOHOL-based Tachyonized Immune System Tonic contains:
(certified organic grain alcohol (51-57%), distilled water, and vegetable food grade glycerin)
Echinacea root (Echinacea purpurea)
Astragalus root (Astragalus membranaceus)
Reishi mushroom (Ganoderma lucidum)
Schisandra berry (Schisandra chinensis)
Prickly Ash bark (Xanthoxylum clava-herculis)
PLEASE NOTE:
Tachyonized Immune System Tonic is free of: gluten, preservatives, GMO, artificial colors, heavy metals, pesticides or fertilizers.
We use only Certified Organic and Wildcrafted herbs!
LEVEL II - CELL POINTS
By incorporating Ultra-Disks into any treatment we quickly balance the natural meridian flow thereby enhancing the entire treatment. Generally, you can use the 15mm Micro or Ultra-Disk for all applications.
Locate the Cell Points as described below. Determine which Cell Points are the tenderest. Liberally apply Panther Juice to these points and allow to dry thoroughly. Using Cell-Dotts or surgical tape, adhere the Micro-Disks to the desired point. It is very important to cover the entire spot.
CELL POINTS FOR BOOSTING THE IMMUNE SYSTEM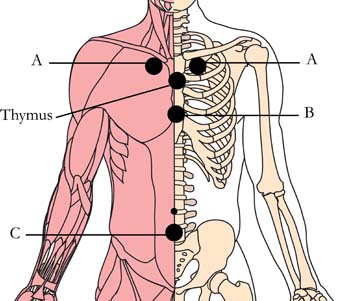 Location: Cell Point A is located in the hollows directly below the protrusions of the collarbone.
Benefits: Strengthens the immune system as well as relieves chest congestion, breathing difficulties, asthma, coughing, anxiety and depression.
Location: Cell Point B is located on the center of the breastbone, three finger widths up from the base of the bone.
Benefits: Relieves anxiety, anguish and depression. Boosts the immune system and regulates the thymus.
The Thymus is located two to three fingers widths below the collarbone.
Location: Cell Point C is located two finger widths below the belly button.
Benefits: Strengthens the condition of the immune system and the internal organs.
Location: Cell Point D is located near the spine, off the tips of the shoulder blades
Benefits: This particular Cell Point governs resistance, especially resistance to colds and flu.
Application: Liberally apply Panther Juice to the area and allow to dry completely. Adhere Micro-Disks with Cell-Dotts™.
Duration: Start Cell Point application when you begin using OS-20. Continue wearing the Micro-Disks for two to three days after symptoms have cleared. Reapply at the first sign of imbalance.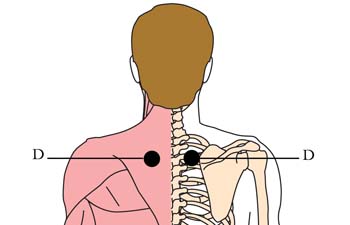 LEVEL III - TLC POINTS
For Tachyon trained individuals, incorporating TLC Bars on the TLC balancing points below represents the ultimate treatment combination. TLC bars are reserved for Students of Tachyon Holistic Wellness courses or LWL courses.
TLC BALANCING POINTS FOR THE IMMUNE SYSTEM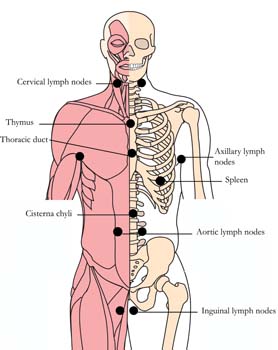 Typical Balance Session: Using your TLC Bars, charge each point for 30 seconds energy in. Reverse the flow for 30 seconds energy out. Finish with 30 seconds energy in.
View All
Close