Frequently bought together:
Description
ACTIONS:
The herbs in this compound are especially effective in treating viral and bacterial infections. Use this herbal compound in the first signs of cold or flu to rapidly boost your immune system. These exceptional herbs like Echinacea help the body fight infections and shorten the duration of your illness. Elecampane is very beneficial in any kind of lung challenges such as cough, asthma, bronchitis and helps to loosen the phlegm and mucus. Goldenseal is considered to be a natural antibiotic and effective immune system booster.
POTENTIAL USES:
Indicated in cases of cold and flu, especially when accompanied by congestive nasal and respiratory conditions. This compound is also useful as a strengthening and preventive tonic for those prone to respiratory illness.
SIZE:
OS-10 comes in 1 oz. (30ml). Using 20 drops per day this bottle will last about 1 month.
DOSAGE:
Shake well before use.
Acute: Take 15 to 20 drops in water, three to five times per day. Use of this compound at the first sign of cold or flu symptoms can usually be aborted within 24 hours.
Preventive Tonic: 15 to 20 drops in water, three times per day anytime cold or flu are suspected.
CONTRAINDICATIONS AND CAUTIONS:
Do not use if you are allergic to any ingredients. Always consult a physician before use.
Some conditions can result in serious infections such as pneumonia or strep throat. In case of continued conditions or persistent fever, consult a qualified healthcare practitioner.
Cold & Flu Remedy is a Tachyonized™ blend of liquid extracts:

PURPLE - ALCOHOL-based Tachyonized Cold & Flu Remedy contains:
(certified organic grain alcohol (56-62%), distilled water)
Echinacea root (Echinacea purpurea)
Goldenseal rhizome and roots (Hydrastis canadensis)
Elecampane root (Inula helenium)
Spilanthes Flowering Herb and Root
Yerba Santa leaf (Eriodictyon californicum)
Horseradish root(Armoracia rusticana)
Wild Indigo root (Baptisia tinctoria)
Elderberry fruit (Sambucus nigra)
Yarrow flower (Achillea millefolium)
Ginger rhizome (Zingiber officinale)
PLEASE NOTE:
Tachyonized Cold & Flu Remedy is free of: gluten, preservatives, GMO, artificial colors, heavy metals, pesticides or fertilizers.
We use only Certified Organic and Wildcrafted herbs!
LEVEL II - CELL POINTS
By incorporating Ultra-Disks into any treatment we quickly balance the natural meridian flow thereby enhancing the entire treatment. Generally, you can use the 15mm Micro or Ultra-Disk for all applications. Locate the Cell Points as described below. Determine which Cell Points are the tenderest. Liberally apply Panther Juice to these points and allow to dry thoroughly. Using Cell-Dotts or surgical tape, adhere the Micro-Disks to the desired point. It is very important to cover the entire spot.
CELL POINTS TO RELIEVE COLDS AND FLU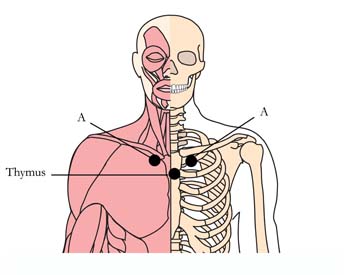 Location: Cell Point A is located in the hollow below the collarbone, next to the breastbone.
Benefits: Relieves head congestion, stuffy nose and headaches.

The Thymus is located two to three finger widths below the collarbone.
Location: Cell Point B is located in the center hollow under the base of the skull.
Benefits: Relieves head congestion, red eyes, mental stress and stiff neck.
Location: Cell Point C is located in the hollows under the base of the skull, on each side of the spine.
Benefits: Relieves headaches, head congestion, neck pain and irritability.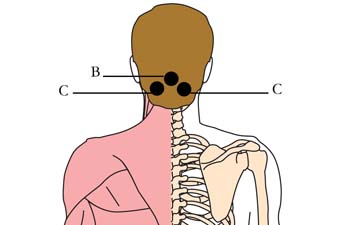 Application: Liberally apply Panther Juice to the area and allow to dry completely. Adhere Micro-Disks with Cell-Dotts™.

Duration: Start Cell Point application when you begin using OS-10. Continue wearing the Micro-Disks for two to three days after symptoms have cleared. Reapply at the first sign of imbalance
LEVEL III - TLC POINTS
For Tachyon trained individuals, incorporating TLC Bars on the TLC balancing points below represents the ultimate treatment combination. TLC bars are reserved for Students of Tachyon Holistic Wellness courses or LWL courses.
TLC BALANCING POINTS FOR COLDS AND FLU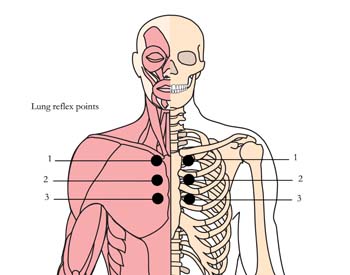 Typical Balance Session: Using your TLC Bars, charge each point for 30 seconds energy in. Reverse the flow for 30 seconds energy out. Finish with 30 seconds energy in.
View All
Close