Frequently bought together:
Description
ACTIONS:
An effective antiviral and antibacterial. Especially useful in the treatment of respiratory and urinary infections. Lomatium Root has been used to help enhance the immune system. Echinacea helps to increase the natural production of virus-inhibiting interferon in the body.
POTENTIAL USES:
As adjunct therapy in conditions associated with or caused by virus. These include: shingles, herpes, mumps, measles, flu, Hepatitis C, Epstein-Barr, infectious mononucleosis, viral meningitis and encephalitis.
SIZE:
OS-4 comes in 1 oz. (30ml). Using 30 drops per day this bottle will last about 1 month.
DOSAGE:
Internal application: 15 to 20 drops in water, two to four times per day between meals.
Topical application: Apply to infected area 2 to 4 times per day. Also take drops internally for best results.
CONTRAINDICATIONS AND CAUTIONS:
If skin rash develops after several days or weeks of using this compound, discontinue use. The rash will disappear quickly. Viral infections and diseases can be serious, especially when accompanied by a fever. Promptly seek qualified healthcare.
COVID 19 Update - We always strive to produce the very best Tachyonized product. Due to certain herbs being unavailable at this time, we must reserve the right to modify the formula as needed without prior notice. What to expect? A superior Tachyon product, with a slightly different formula and a somewhat different taste. Thank you for your trust and support.
Tachyonized Viral and Bacterial Remedy is a Tachyonized™ blend of liquid extracts:
20% - Lomatium root (Lomatium dissectum)
20% - Echinacea seed (Echinacea purpurea)
20% + St. John's Wort flower and bud (Hypericum perforatum)
20% + Lemon Balm leaf and flower (Melissa officinalis)
20% - Olive leaf (Olea europaea)

+ Fresh - Dried
(Contains grain alcohol (47-52%), distilled water and vegetable glycerin)

PLEASE NOTE: We use only Certified Organic and Wildcrafted herbs!
Shake well before using. Sediment in the product is normal due to the high quality of the herbs used in our tinctures. If the dropper gets plugged, use a toothpick or needle to unplug, as shown.
LEVEL II - CELL POINTS
By incorporating Ultra-Disks into any treatment we quickly balance the natural meridian flow thereby enhancing the entire treatment.Generally, you can use the 15mm Micro or Ultra-Disk for all applications. Locate the Cell Points as described below. Determine which Cell Points are the tenderest. Liberally apply Panther Juice to these points and allow to dry thoroughly. Using Cell-Dotts or surgical tape, adhere the Micro-Disks to the desired point. It is very important to cover the entire spot.
CELL POINTS FOR BOOSTING THE IMMUNE SYSTEM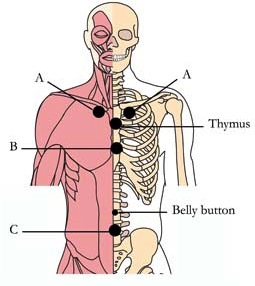 Location: Cell Point A is located in the depression directly below the protrusions of the collarbone.
Benefits: Strengthens the immune system as well as relieves chest congestion, breathing difficulties, asthma, coughing, anxiety and depression.
Location: Cell Point B is located on the center of the breastbone three finger widths up from the base of the bone.
Benefits: Relieves anxiety, anguish and depression. Boosts the immune system and regulates the thymus.
The Thymus is two to three finger widths below the collarbone.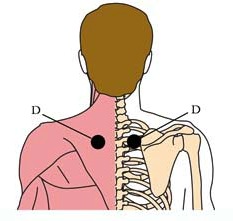 Location: Cell Point C is located two finger widths below the belly button.
Benefits: Strengthens the condition of the immune system and internal organs.
Location: Cell Point D is located near the spine, off the tips of the shoulder blades.
Benefits: This particular point governs resistance to colds and flu.
Application: Liberally apply Panther Juice to the areas and allow them to dry completely. Adhere Micro-Disks with Cell-Dotts™.
Duration: Start Cell Point application when you begin using OS-4. Continue wearing the Micro-Disks for two or three days after symptoms have cleared. Reapply at the first sign of imbalance.
View All
Close