Frequently bought together:
Description
ACTIONS:
Tachyonized herbs in this compound help with menstrual cycle problems and pain, premenstrual syndrome, and menopause. Chaste Tree berries normalize and stimulate pituitary gland functions, particularly those of the female sex hormones. This tonic helps restore a normal estrogen/progesterone balance. Motherwort leaf can reduce menstrual cramps and also acts as a uterine tonic which helps to regulate menstruation. Black cohosh is used for hundred years to regulate menstrual cycle and calm and support the uterus.
POTENTIAL USES:
Suggested for relief of endocrine imbalances, sleep difficulties, and emotional imbalances associated with menopause and declining ovarian function. Specifically indicated for hot flashes and sweats.
SIZE:
OS-35 comes in 1 oz. (30ml). Using 30 drops per day this bottle will last about 1 month.
DOSAGE:
15 to 20 drops in a little water, two to four times per day, between meals. Positive results may be seen in as little as a few days or may take several weeks or longer depending upon the individual situation.
CONTRAINDICATIONS AND CAUTIONS:
When experiencing health concerns during menopause it is best to see a qualified healthcare practitioner rather than self-diagnosing.
Women's Tonic is a Tachyonized™ blend of liquid extracts:
30% Chaste Tree berry (Vitex agnus-castus)
22% Motherwort leaf and flower (Leonurus cardiaca)
17% Black Cohosh rhizome and rootlets (Cimicifuga racemosa)
17% Licorice root (Glycyrrhiza glabra)
14% Pulsatilla flowering herb (Anemone pulsatilla)
(Contains grain alcohol (51-56%), distilled water and vegetable glycerine)
PLEASE NOTE: We use only Certified Organic and Wildcrafted herbs!
LEVEL II - CELL POINTS
By incorporating Ultra-Disks into any treatment we quickly balance the natural meridian flow thereby enhancing the entire treatment. Generally, you can use the 15mm Micro or Ultra-Disk for all applications. Locate the Cell Points as described below. Determine which Cell Points are the tenderest. Liberally apply Panther Juice to these points and allow to dry thoroughly. Using Cell-Dotts or surgical tape, adhere the Micro-Disks to the desired point. It is very important to cover the entire spot.
CELL POINTS TO RELIEVE MENOPAUSAL SYMPTOMS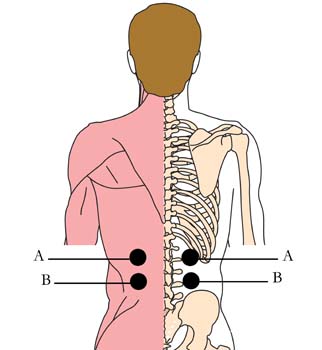 Location: Cell Point A is located on the back over the kidneys.
Benefits: Female balance.
Location: Cell Point B is located on the back on the crest of the hip.
Benefits: This point is the "Mother Principle". It is good for female balance.

Location: Cell Point C is located on the back of the knee, just inside the tendon off the head of the tibia.
Benefits: This point is for the "Change of Life". It balances the hormones.
Application: Liberally apply Panther Juice to the area and allow to dry completely. Adhere Micro-Disks with Cell-Dotts™.

Duration: Start Cell Point application when you begin using OS-35. Continue wearing the Micro-Disks for two to three days after symptoms have cleared. Reapply at the first sign of imbalance.
LEVEL III - TLC POINTS
For Tachyon trained individuals, incorporating TLC Bars on the TLC balancing points below represents the ultimate treatment combination. TLC bars are reserved for Students of Tachyon Holistic Wellness courses or LWL courses.
TLC BALANCING POINTS FOR MENOPAUSE

Typical Balance Session: Using your TLC Bars, charge each point for 30 seconds energy in. Reverse the flow for 30 seconds energy out. Finish with 30 seconds energy in.
View All
Close