Frequently bought together:
Description
ACTIONS:
Acts as a tonic and strengthener of the heart/cardiovascular system and connective tissues by being absorbed directly into the heart, turning it into an active Tachyon antenna.
SIZE:
OS-HRT comes in 1 oz. (30ml). Using 30 drops per day this bottle will last about 1 month.
DOSAGE:
15 to 20 drops in a little water, two to four times per day. Best results are seen with long term use.
CONTRAINDICATIONS AND CAUTIONS:
Hawthorn can synergestically augment the cardiac glycoside action of Digitalis or related drugs. Digitalis medications should be monitored by a physician if Hawthorn is also used in treatment.
Tachyonized Heart Revitalizer is a Tachyonized™ liquid extract of:
75% + Hawthorn berry and - flowers and leaves (Crataegus spp.)
(contains Grain Alcohol (56-62%) and distilled water)
25% + Cactus Grandiflorus (Selenicereus grandiflorus)
(contains Grain Alcohol (40-45%) and distilled water)
+ Fresh - Dried
PLEASE NOTE: We use only Certified Organic and Wildcrafted herbs!
LEVEL II - CELL POINTS
By incorporating Ultra-Disks into any treatment we quickly balance the natural meridian flow thereby enhancing the entire treatment. Generally, you can use the 15mm Micro or Ultra-Disk for all applications. Locate the Cell Points as described below. Determine which Cell Points are the tenderest. Liberally apply Panther Juice to these points and allow to dry thoroughly. Using Cell-Dotts or surgical tape, adhere the Micro-Disks to the desired point. It is very important to cover the entire spot.
CELL POINTS SPECIFIC TO THE HEART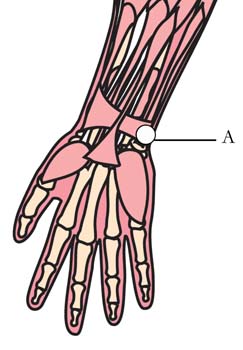 Palm side of hand
Location: Cell Point A is located on the palm side of the hand, little finger side of the forearm at the crease of the wrist.
Benefits: Regulates the heart and strengthens the spirit.
Application: Liberally apply Panther Juice to the area and allow to dry completely. Adhere Micro-Disks with Cell-Dotts™.
Duration: Start Cell Point application when you begin using OS-HRT. Continue wearing the Micro-Disks for two to three days after symptoms have cleared. Reapply at the first sign of imbalance. For use specifically with exercise apply the Micro-Disks from 1-2 hours minimum and up to 6-8 hours prior to strenuous physical activity. Remove when the activity is completed.
LEVEL III - TLC POINTS
For Tachyon trained individuals, incorporating TLC Bars on the TLC balancing points below represents the ultimate treatment combination. TLC bars are reserved for Students of Tachyon Holistic Wellness courses or LWL courses.
TLC BALANCING POINTS FOR THE HEART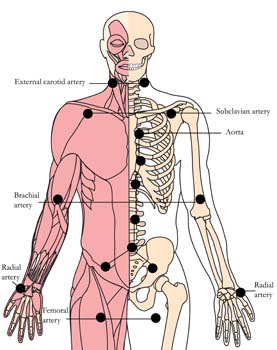 Typical Balance Session: Using your TLC Bars, charge each point for 30 seconds in. Reverse the flow for 30 seconds. Finish with 30 seconds in.
View All
Close