Frequently bought together:
Description
ACTIONS:
While Devil's Club root bark is used as a blood sugar stabilizing agent, all of the herbs in the compound act as a tonic for restoring and maintaining sugar metabolism equilibrium.
POTENTIAL USES:
Indicated in both hypoglycemia and hyperglycemia. Some diabetics have been able to lower their insulin dosages when using this compound regularly. However, those on insulin therapy need to closely monitor their blood sugar levels as the insulin dosage may need to be adjusted.
SIZE:
OS-30 comes in 1 oz. (30ml). Using 30 drops per day this bottle will last about 1 month.
DOSAGE:
Shake well before use.
15 to 22 drops in water. Take 1/2 hour before meals.
CONTRAINDICATIONS AND CAUTIONS:
Do not substitute for insulin therapy. Consult a physician before making any changes to insulin therapy.
Do not use if you are allergic to any ingredients. Always consult a physician before use.
Sugar Metabolism Tonic is a Tachyonized™ blend of liquid extracts:

PURPLE - ALCOHOL-based Tachyonized Sugar Metabolism Tonic contains:
(certified organic grain alcohol (49-54%), distilled water, and vegetable food grade glycerin)
Devil's Club root bark (Oplopanax horridus)
Jambul seed (Syzygium cumini)
Blueberry leaf (Vaccinum spp.)
Bean pod [without beans] (Phaseolus vulgaris)
Dandelion root, leaf and flower (Taraxacum officinale)
PLEASE NOTE:
Tachyonized Sugar Metabolism Tonic is free of: gluten, preservatives, GMO, artificial colors, heavy metals, pesticides or fertilizers.
We use only Certified Organic and Wildcrafted herbs!
---
LEVEL II - CELL POINTS
By incorporating Ultra-Disks into any treatment we quickly balance the natural meridian flow thereby enhancing the entire treatment. Generally, you can use the 15mm Micro or Ultra-Disk for all applications. Locate the Cell Points as described below. Determine which Cell Points are the tenderest. Liberally apply Panther Juice to these points and allow to dry thoroughly. Using Cell-Dotts or surgical tape, adhere the Micro-Disks to the desired point. It is very important to cover the entire spot.
CELL POINTS FOR BALANCING SUGAR METABOLISM
Location: Cell Point A is located at the base of the scapula, towards the spine.
Benefits: This point is good for balancing organs at the waistline, such as the pancreas and adrenals.
Location: Cell Point B is located on the back over the kidneys.
Benefits: This point balances blood sugar metabolism.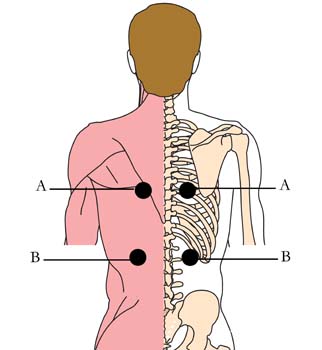 Application: Liberally apply Panther Juice to the area and allow to dry completely. Adhere Micro-Disks with Cell-Dotts™.
Duration: Start Cell Point application when you begin using OS-30. Continue wearing the Micro-Disks for two to three days after symptoms have cleared. Reapply at the first sign of imbalance.
View All
Close