Frequently bought together:
Description
A 5G-Power Pick - Brain activation and balance are key to thriving in a 5G world, making this a perfect fit in a 5G power pick tool kit.
ACTIONS:
Folklore suggests that the herbs in this compound directly retard aging of brain and nerve cells and contain antioxidant properties that slow down mental aging. Ginkgo significantly improves the overall metabolism of the brain by enhancing cerebral circulation and increasing energy production in brain cells. Increased oxygen facilitates the elimination of lactic acid and other metabolic waste products. Gotu Kola has been in use for hundreds of years in Ayurvedic Medicine as a rejuvenating tonic for the brain and nervous system.
POTENTIAL USES:
Suggested as an aid for short term memory loss, mental stress and fatigue, and lack of mental clarity, failing memory, Alzheimer's disease and other dementia. Also aids in recovery from strokes and enhances meditation and mental work.
SIZE:
OS-6 comes in 1 oz. (30ml). Using 30 drops per day this bottle will last about 1 month.
DOSAGE:
Shake well before use.
15 to 20 drops in water, two to four times per day. Take between meals.
PROPRIETARY BLEND OF TACHYONIZED INGREDIENTS:
OS-6 With Alcohol (Purple Label)

OS-6 Alcohol Free (Green Label)
PURPLE LABEL = ALCOHOL-based
Tachyonized Brain and Memory Tonic contains:
(Contains grain alcohol (42-47%) and distilled water)
20% - Gotu Kola herb (Centella asiatica)
20% - Ginkgo leaf (Ginkgo biloba)
20% + Skullcap flowering herb (Scutellaria lateriflora)
20% - Sage leaf (Salvia officinalis)
20% + Rosemary leaf (Rosemarinus off.)

+ Fresh - Dried
GREEN LABEL = Alcohol-Free
Tachyonized Brain and Memory Tonic contains:
Organic vegetable food grade glycerin / purified Tachyonized water ratio: 3/2. No Alcohol
Gotu Kola herb (Centella asiatica)
Ginkgo leaf (Ginkgo biloba)
Rosemary leaf (Rosemarinus off.)
PLEASE NOTE:
Tachyonized Brain and Memory Tonic is free of: gluten, preservatives, GMO, artificial colors, heavy metals, pesticides or fertilizers.
We use only Certified Organic and Wildcrafted herbs!
CONTRAINDICATIONS AND CAUTIONS:
If brain disease or injury do not substitute this compound for qualified healthcare.
---
LEVEL II - CELL POINTS
By incorporating Ultra-Disks into any treatment we quickly balance the natural meridian flow thereby enhancing the entire treatment. Generally, you can use the 15mm Micro or Ultra-Disk for all applications. Locate the Cell Points as described below. Determine which Cell Points are the tenderest. Liberally apply Panther Juice to these points and allow to dry thoroughly. Using Cell-Dotts or surgical tape, adhere the Micro-Disks to the desired point. It is very important to cover the entire spot.
CELL POINTS SPECIFIC TO MEMORY AND CONCENTRATION
Location: Cell Point A is located below the base of the skull, in the hollows on each side of the spine.
Benefits: Good for memory and concentration. This point opens the sensory organs and clears the brain.
Location: Cell Point B is located one-half inch below the base of the skull, on each side of the spine.
Benefits: Relieves stress, heaviness in the head and unclear thinking. This point helps relax the neck, allowing greater circulation into the brain.
Application: Liberally apply Panther Juice to the areas and allow to dry completely. Adhere Micro-Disks with Cell-Dotts™.
Duration: Apply Micro-Disks anywhere from 30 minutes up to 2 1/2 hours prior to meditation or mental activity. For brain issues wear the Micro-Disks for two to three days after symptoms have cleared. Reapply at the first sign of imbalance.
LEVEL III - TLC POINTS
For Tachyon trained individuals, incorporating TLC Bars on the TLC balancing points below represents the ultimate treatment combination. TLC bars are reserved for Students of Tachyon Holistic Wellness courses or LWL courses.
TLC BALANCING POINTS FOR BALANCING THE BRAIN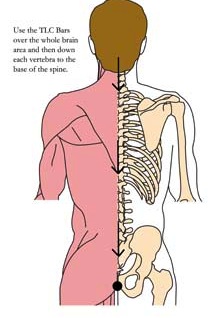 Typical Balance Session: Using your TLC Bars, charge each point for 30 seconds in. Reverse the flow for 30 seconds. Finish with 30 seconds in.
View All
Close