Frequently bought together:
Description
ACTIONS:
The herbs in this compound promote healthy circulation to the prostate, soothing burning and irritation of the prostate and urinary tract. They also facilitate the draining of congested tissue fluids. Action is anti-inflammatory and mildly diuretic.
POTENTIAL USES:
This herbal combination is excellent for maintaining a healthy prostate. It is suggested for both acute and chronic prostate gland infections, inflammations, and ulcerations, difficulty in urinating, and dripping urine at night. Specifically indicated in the treatment of swollen prostate.
SIZE:
OS-24 comes in 1 oz. (30ml). Using 30 drops per day this bottle will last about 1 month.
DOSAGE:
Chronic: 15 to 20 drops in water, two to three times per day. Take 6 days per week for 2 to 6 months, or longer, depending on individual needs.
Acute: 15 to 20 drops in water, three to five times per day.
Tonic: As a maintenance tonic, once or twice a year take 15 to 20 drops in water, two times per day. Take 6 days per week for 2 to 4 weeks.
CONTRAINDICATIONS AND CAUTIONS:
It is important that problems with the prostate be properly diagnosed and treated under the supervision of a qualified healthcare practitioner, especially if there is pain, fever, or an abnormal discharge.
Tachyonized Prostate Gland Tonic is a Tachyonized™ blend of liquid extracts:
25% - Saw Palmetto berry (Serenoa repens)
20% - Nettle root (Urtica dioica)
20% + Pipsissewa leaf (Chimaphilla umbellata)
20% - Cleavers herb (Galium aparine)
15% + Thuja leaf (Thuja occidentalis)
+ Fresh - Dried
(Contains grain alcohol (53-58%), distilled water, and vegetable glycerin)
PLEASE NOTE: We use only Certified Organic and Wildcrafted herbs!
LEVEL II - CELL POINTS
By incorporating Ultra-Disks into any treatment we quickly balance the natural meridian flow thereby enhancing the entire treatment. Generally, you can use the 15mm Micro or Ultra-Disk for all applications. Locate the Cell Points as described below. Determine which Cell Points are the tenderest. Liberally apply Panther Juice to these points and allow to dry thoroughly. Using Cell-Dotts or surgical tape, adhere the Micro-Disks to the desired point. It is very important to cover the entire spot.
CELL POINTS FOR THE PROSTATE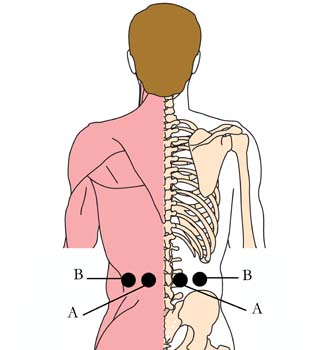 Location: Cell Points A and B are located on the lower back, between the second and third vertebrae, two and four finger widths away from the spine, at waist level.
Benefits: Relieves lower back aches, sexual and reproductive problems, impotency and premature ejaculation.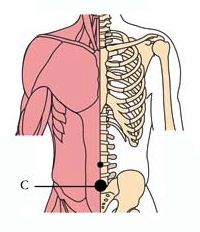 Location: Cell Point C is located four finger widths directly below the belly button.

Benefits: Relieves impotency, uro-reproductive problems and urinary incontinence.
Application: Liberally apply Panther Juice to the area and allow to dry completely. Adhere Micro-Disks with Cell-Dotts™.
Duration: Start Cell Point application when you begin using OS-24. Continue wearing the Micro-Disks for two to three days after symptoms have cleared. Reapply at the first sign of imbalance.
LEVEL III - TLC POINTS
For Tachyon trained individuals, incorporating TLC Bars on the TLC balancing points below represents the ultimate treatment combination. TLC bars are reserved for Students of Tachyon Holistic Wellness courses or LWL courses.
TLC BALANCING POINTS FOR THE PROSTATE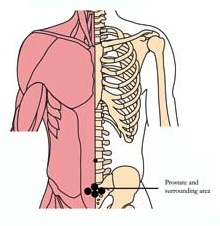 Typical Balance Session: Using your TLC Bars, charge each point for 30 seconds energy in. Reverse the flow for 30 seconds energy out. Finish with 30 seconds energy in.
This Tachyon energy product is a blend of Tachyonized herbs that promote healthy circulation of the prostate and urinary tract, soothes burning and irritation and helps drain congested fluids.
View All
Close