Frequently bought together:
Description
ACTIONS:
Excellent as a liver-specific tonic in treating conditions such as hepatitis, cirrhosis and chronic constipation, by being absorbed directly into the liver, turning it into an active Tachyon antenna.
SIZE:
OS-LIV comes in 1 oz. (30ml). Using 30 drops per day this bottle will last about 1 month.
DOSAGE:
10 to 20 drops in a little water, two to four times per day.
CONTRAINDICATIONS AND CAUTIONS:
None
Tachyonized Liver Tonic is a Tachyonized™ liquid extract of:
80% - Milk Thistle pericarp (seed coat) (Silybum marianum)
(contains Grain Alcohol (62-68%) and distilled water)
20% + Dandelion whole flowering plant wih root (Taraxacum officinale)
(Contains grain alcohol (38-43%) and distilled water)
+ Fresh - Dried
PLEASE NOTE: We use only Certified Organic and Wildcrafted herbs!
LEVEL II - CELL POINTS
By incorporating Ultra-Disks into any treatment we quickly balance the natural meridian flow thereby enhancing the entire treatment.Generally, you can use the 15mm Micro or Ultra-Disk for all applications. Locate the Cell Points as described below. Determine which Cell Points are the tenderest. Liberally apply Panther Juice to these points and allow to dry thoroughly. Using Cell-Dotts or surgical tape, adhere the Micro-Disks to the desired point. It is very important to cover the entire spot.
CELL POINTS SPECIFIC TO THE LIVER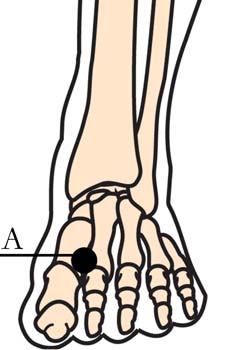 Location: Cell Point A is located on the top of the foot in the valley between the big toe and the second toe.
Benefits: This is the Source Point for the liver. This point is used when the liver itself is affected, as it has a direct link.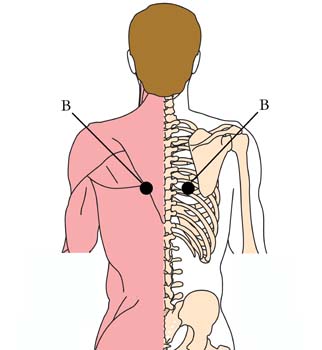 Location: Cell Point B is located on the back at the base of the scapula on the spine side.
Benefits: Assists in opening energy blocks associated with organs around the waistline, such as the liver, pancreas and adrenals.
Application: Liberally apply Panther Juice to the area and allow to dry completely. Adhere Micro-Disks with Cell-Dotts™.
Duration: Start Cell Point application when you begin using OS-LIV. Continue wearing the Micro-Disks for two to three days after symptoms have cleared. Reapply at the first sign of imbalance.
LEVEL III - TLC POINTS
For Tachyon trained individuals, incorporating TLC Bars on the TLC balancing points below represents the ultimate treatment combination. TLC bars are reserved for Students of Tachyon Holistic Wellness courses or LWL courses.
TLC BALANCING POINTS FOR THE LIVER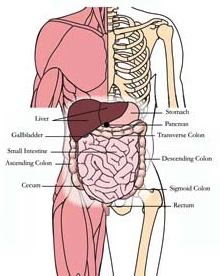 Typical Balance Session: Using your TLC Bars, charge each point for 30 seconds in. Reverse the flow for 30 seconds. Finish with 30 seconds in.
View All
Close